Artificial fish reef
soft corals, sea fans, feather stars…. a lot of invertebrates. -18m, 16.9℃
Ceratosoma trilobatum (J. E. Gray, 1827) Nishiki Umiushi
Ceratosoma trilobatum (J. E. Gray, 1827)
This is a very common Nudibranch, but one of my favorite. This guy was hanging on an isolated small rock on the mud bottom. -18m. 26℃.
At Owase, Mie, Japan. The water is hotter comper with the ordinary year. Set, 26, 2019
This nudibranch is called Nisiki Umiushi as the common name in Japan.
Nishiki is a generic term for silk fabrics woven using various colored yarns. So, Nishiki often is used term to refer to vivid and beautiful things.
The Under water flower garden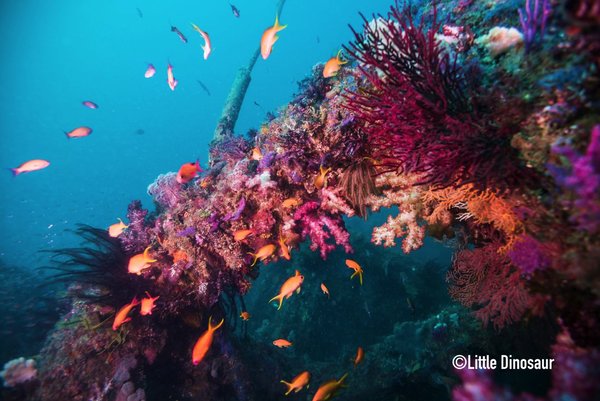 The Gyosho point is the garden of Marine flowers. Concrete blocs covered with many colorful soft corals. And it is a habitat for a lot of creatures. It is located south of the Kii peninsula. Mie, Japan.
The article linked (The web magazine TRiPE DiTOR) is in Japanese. But you can enjoy photos.
I introduced that place detailed also in Guide Book "New 50 Best Dives in Japan" (in English). On sale at Amazon.com